As you tune into the Republican National Convention each year, one must wonder what has happened to our traditional Republican dress code.  Obviously if you've watched these eccentric folks in Cowboy hats and god knows what stomping around on the RNC floor, you'll notice that things seem to be slipping a bit.  Gone are the days when Alex P. Keaton demonstrated that it's OK to start wearing suits and carrying a briefcase in high school, it would seem.  The whole situation almost makes me a little misty for a simpler time when Republicans had the decency to at least attempt to adhere to the clothing choices laid out in the infamous "Preppy Handbook".
Now the Democrats have got America believing that most Conservatives in America dress like they are on Duck Dynasty, and quite frankly I'm starting to become a little concerned that it's actually true.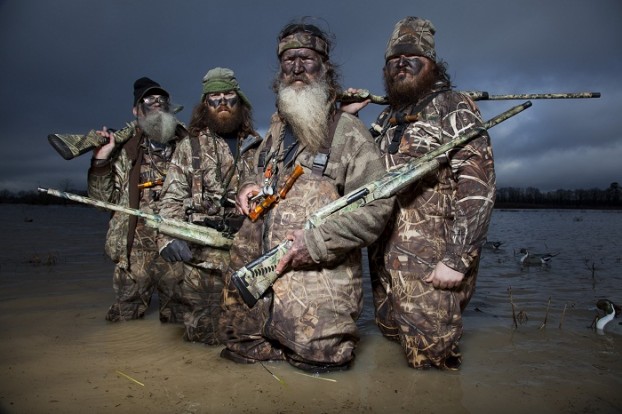 Let's quickly recap how conservatives are supposed to dress, and see if we can start a trend in reversing this ridiculous image problem our party seems to have.
The Casual Look
First, I want to remind my Republican friends that it's OK to wear a collared shirt, even when in an informal situation.  Ralph Lauren is a good American brand that conservatives should feel comfortable wearing, but really any polo style shirt will do.  There is no casual situation when a nice polo shirt won't work, I've even seen it worn with pajamas.  In simpler times when most Republicans played golf instead of playing horse shoes, or whatever the hell they do now — this was a known fact, and accepted by all.  Examples:
James Perse black cotton jersey short sleeve polo

James Perse white cotton jersey short sleeve polo
For pants there is nothing like a flat front Khaki when you're trying to look relaxed, but anything with a flat front will drive home the point that you are relaxed, but still like someone who could be trusted with an important job.  Republicans stand ready for business at all times, and this should be reflected in the clothes we wear.  Examples:

Brunello Cucinelli ivory cotton twill jodhpur style pants

Tommy Hilfiger navy pinstripe wool 'Tyler' flat front pants
For Business:
During business hours, or for martinis at the lounge after work has ended — Let's face it.  There is still no beating a nice suit.  You don't have to break the bank to buy it, but it's got to be a suit that fits you, and looks good on you.  Slim fit are popular now, along with 2 button, but if you can pull off a 3-button — by all means, enjoy yourself.  Wearing a suit says, "Hey, I respect myself, and I respect my clients" — and it tells the world not to screw with you.  Think about it — Have you ever thought of messing with someone in a suit?  Did William F. Buckley ever leave the house without a suit?  Hell no, he probably slept in one! See, I just blew your mind.  Examples:



Tommy Hilfiger navy plaid wool 'Nathan' two-button suit with flat front pants

Jack Victor navy tonal bar striped wool 2-button 'Napoli CT' suit with flat front pants
Shoes:
Choose a nice conservative leather shoe that isn't cheap, you don't want to detract from your suit, but you know that shoes and watches are the first things they see when they meet a man.  It should say that you can afford nice shoes, and instill confidence in whomever you may be meeting.  Examples:


Kenneth Cole New York black leather 'Jay Walk' oxfords

Kenneth Cole New York black leather 'Bump N Grind' oxfords